About Us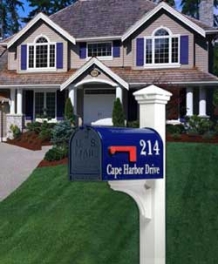 History of C R Mailboxes
C R Mailboxes was started in 1990 by my father Coy Shupe as a part-time venture in the New River Valley. His intention of having something to do after retirement quickly became more than he could handle while working full-time, so he scaled back the business to a more manageable level. After moving to the Roanoke Valley a few years later, he invited me to join him and expand the business to its full potential. In 2005 he retired, and my wife Cindy and I have grown the business to what we feel has become a unique service available to the community.
We look forward to serving all your mailbox needs.
Thank you,
Joe Shupe
C R Mailboxes
What makes us different from the competition
C R Mailboxes is a complete mailbox service. We offer a selection of mailboxes and post assemblies second to none. They are available in many unique styles, colors and options that distinguish our mailboxes from the ordinary. Our mailbox systems will show the attention to detail that you have put into your home. We will even custom design and fabricate a system just for you to make your home stand out from the rest.
Why we are the best at what we do
Here at C R Mailboxes we value your business. That is why we pay special attention to the details that will make your experience of doing business with us one that you will be pleased to tell your family and friends about.